We held the 2nd Kyutech International Workshop on Robotics and Innovation using Zoom as follows.
Date: Mar 12-13, 2020.
Place: Fully distributed at each individual office.
Program: 
<Day 1>
1:( JST 10:00-10:10)  Opening
Prof. Tomohiro Shibata, LSSE, Kyutech
2:( JST 10:10-11:00) "Palm-sized Cryoprobe System Based on Refrigerant Expansion and Boiling and its Application to an Animal Model of Epilepsy"
Tatsuji Tokiwa, Graduate School of Information Sciences, Hiroshima City University
3:( JST 11:00-11:50)
"Elucidating the Self-Organization Process of Behavioral Planning in the Prefrontal Cortex of Monkeys Through Multidimensional Analyses of Electrophysiological Signals"
Kazuhiro Sakamoto, Faculty of Medicine, Tohoku Medical and Pharmaceutical University, Japan
JST 11:50-13:30 Break
4:( JST 13:30-14:20) 
"Computational Psychiatry: Understanding Psychiatric and Neurodevelopmental Disorders Using Computational Modeling"
Yuichi Yamashita, Department of Functional Brain Research, National Center of Neurology and Psychiatry, Japan
5: (JST 14:20-15:10)
"Design, Control and Clinical Trials of a BCI based Hand Exoskeleton for Stroke Patients"
Ashish Dutta, Department of Mechanical Engineering, Indian Institute of Technology Kanpur, India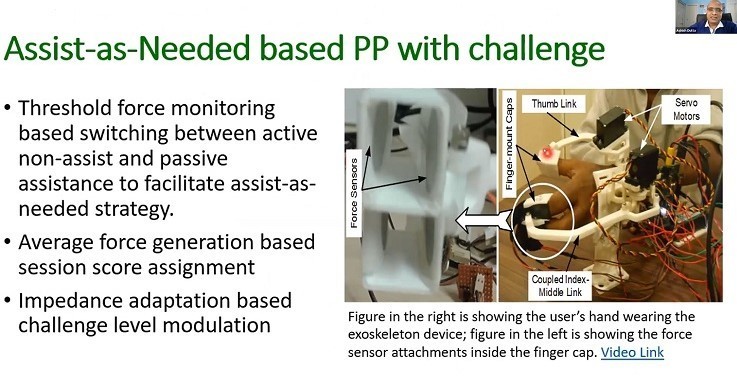 Break
6:( JST 15:30-16:20)
"Contribution of Prefrontal Cortex in Working Memory Tasks Using EEG and NIRS"
Keiji Iramina, Kyushu University, Japan
7:( JST 16:20-17:10)
"The Importance of Hypothesis-Driven Annotation Linked to Target Datasets: NIX/odML Data Sharing Standards Associated with Ontology Schemes"
Hiroaki Wagatsuma, Graduate School of Life Science and Systems Engineering, Kyushu Institute of Technology, Japan
JST 17:10-17:30 General Discussion
<Day 2>
1:(13:30 - 13:40) Opening
Prof. Eiji Hayashi, CSSE, Kyutech
2:(13:40 - 14:30) "Innovative Robot – Robot/AI for Field and Sensing System"
Prof. Eiji Hayashi, CSSE, Kyutech
3:(14:40 - 15:20) "Introduction of Center for Socio-Robotic Synthesis"
Prof. Kazuo Ishii, LSSE, kyutech
Break
 4:(15:30 - 16:30) " Robotics2Rural---An Innovative Reaching and Research Approaches " Prof. Subir Kumar Saha, Department of Mechanical Engineering, Indian Institute of Technology Delhi, India
5: (16:40 - 17:20) "Exploiting the Synergistic Space in the Human and the Robot Behavior for Assistive Technology"
Prof. Tomohiro Shibata, LSSE, Kyutech
6: (17:20-17:30) Closing
Prof. Kazuo Ishii, LSSE, Kyutech
We thank all the speakers and the participants. The external speakers were not able to join due to the COVID-19 problem, but we enjoyed a lot their talks and discussions!
We also thank Assoc. Prof. Wagatsuma for organizing the Day 1 workshop, and for enabling this Zoom workshop for the two days.